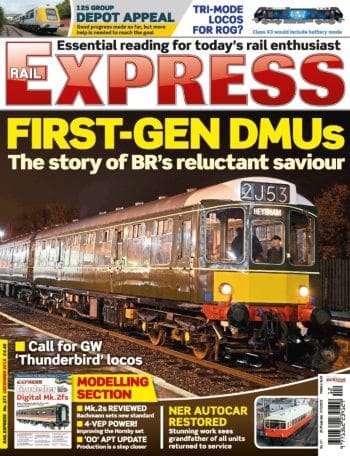 FEATURES
1903 AUTOCAR RESTORED
The grandfather of all units is back in service after a magnificent restoration.
BR's RELUCTANT SAVIOUR
The story of first generation DMUs.
LOOKING TO THE FUTURE
An update on the 125 Group, which is raising funds for a depot for its growing fleet.
0-60: CLASS 360
How quick are these East Anglian EMUs?
REGULARS
SUBSCRIPTION OFFERS
The best ways to get Rail Express every month.
TIME TRAVELLER
News headlines from decades past.
EXPRESS MAILBAG
Leeds 'Peak'; Slow trains.
REVIEWS
A selection of modern traction books.
NEWS
HEADLINE NEWS
Budget confirms rail spending plans; New NR chief says digital railway 'oversold'; ROG announces Class 93; Call for Great Western 'Thunderbird' locos; First IET to Newquay; Cornish sand trial; Terms announced for rail industry review; Euro '66' goes home; Scarborough '68s'; Tram-train trial gets underway but marred by first day crash; Battery Class 230 demonstrated.
LU WORLD
New line for Bank nearly complete.
RAILTOURS
DPS considers main line return for 'Deltic'.
PRESERVATION
Mangapps acquires two Network Rail Class 31s; Restored 'Hymek' ventures out; South Devon gala moves to summer; '306' moves to Shildon'.
POWER BY THE HOUR
RHTT Class 20s in trouble.
SHUNTERS
RSS and RMS move locos around.
POWERSCENE
Notable workings, Name Game and Spectrum.
UNITS
First Class 315 EMUs go for scrap.
COACHES
ScotRail HSTs start passenger service.
WAGONS
Pace of HTA disposals picks up.
IRISH ANGLE
Preserved loco restorations move forward.
Comments
comments