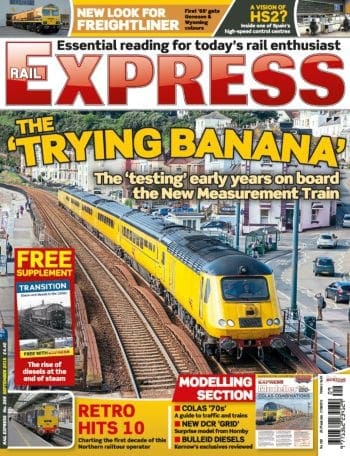 FEATURES:
THE 'TRYING BANANA'
Early days aboard the New Measurement Train, where life did not always go to plan.
A VISION OF HS2?
Inside one of Spain's control centres which manage the country's high-speed rail network.
0-60: CLASS 37s
The summer's steam ban gave chance to record these English Electric machines.
RETRO RAILTOURS AT 10
Some gave it no hope, but the railtour company has now notched up its first decade.
REGULARS:
SUBSCRIPTION OFFERS
The best ways to get Rail Express every month.
TIME TRAVELLER
News from 10, 20, 30, 40 and 50 years ago.
EXPRESS MAILBAG & REVIEWS
Clues to the 'Welly Boot' Pullman; Class 50s in Cumbria. Recent books about modern traction.
NEWS:
HEADLINE NEWS
December upgrades postponed; New look for West Midlands Railway; Class 19 started up; West of England plan aborted; First IET to Paignton; Tenders sought for HS2 fleet; South Eastern franchise put back; First Class 717s delivered; Open day raises £37,000; Trans-Pennine upgrade to go ahead; TPE '802' on test'; Class 50 gala offers more than haulage.
LU WORLD
Overhauled 1938 Stock returns.
RAILTOURS
First main line tours announced for No. D213
PRESERVATION
Pioneer Class 142 claimed for National Collection; Two '03's for Isle of Wight gala; 'Teddy Bear' to visit North Norfolk; CFA Class 50s gain more main line work.
POWER BY THE HOUR
'EDs', '56s' and '60s' transfer to GB Railfreight.
POWERSCENE
Notable workings, Name Game and Spectrum.
UNITS
Class 385s enter passenger service.
SHUNTERS
AV Dawson '08' returns for BLS charter.
COACHES
A focus on ex-HST 'TRUKs'.
WAGONS
Last BR ferry vans recovered.
IRISH ANGLE
Hot weather takes it toll on services.
Comments
comments