Rail Express is essential reading for today's rail enthusiast. It has all the latest news from across Britain's railway network, illustrated with superb photographs of traction in action.
There's full coverage of main line movements, London Underground, railtours, the preservation scene, shunters, coaches and developments over on the Irish network. Every movement and acquisition is examined and the Time Traveller column offers a nostalgic look back at the rail news of yesteryear.
Rail Express Modeller is your comprehensive guide to the world of model railways, featuring reviews of new releases and how-to guides for getting the best from your layout.
So don't miss out – get involved and take out your magazine subscription now!
September 2016
Current issue: September 2016
Next issue: October 2016 – On sale: September 15
In the September 2016 issue: 
Headline News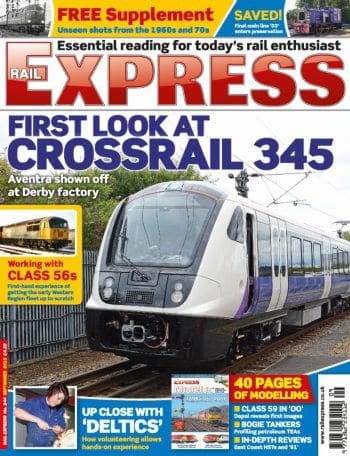 NR plans for growth in Scotland; Support for HS2 continues; ROG wins five-year haulage deal; CAF to open train assembly plant; GWR receives first Class 387s; London Midland to trial D-Train; North East looks to grow rail network; Northern announces 'Pacer' fleet rundown dates; Southern hit by longest strike for 50 years; Banbury semaphores go; TOCs benefit from passenger ignorance; Testing begins on Class 707s for SWT; Crossrail Class 345 shown off in Derby.
Last Class 03 preserved
Celebrity Hornsey shunter No. 03179 has been secured for preservation at the Rushden Transport Museum near Wellingborough.
The next generation
Young volunteers are getting hands-on experience of working with big diesels by
joining locomotive support groups.
Working with 'Grids'
Steve Morris recounts his time getting the
first Class 56s up to scratch on the Western Region in the 1980s.
0-60: Class 220
A second run on a CrossCountry 'Voyager' produces a blistering performance.
Express Mailbag and Reviews
British train builders; Unglamorous Bristol; HS2 stations; and two books on early diesels.
Time Traveller
Looking back over the last five decades.
Derby Trainman
Working the stone train to Washwood Heath.
LU World
'C' Stock driving car added to LTM collection.
Railtours
'EDs' go west; Successful debut for No. 37025.
Preservation
Appeal for Class 40 radiators; Inside the unique Class 28; 'Thumpers' meet on Lavender Line.
Power By The Hour
Uncertain future for the fleet of DB Cargo
Class 67s; Large logo '37s' return.
Powerscene
Notable workings from around the country.
Shunter Spot
Alstom Class 08 update; Fleet news round-up.
Unitary Authority
DMU and EMU news class-by-class.
Coach Compartment
Mk.3 restaurant cars are fast disappearing.
Wagons Roll
Deal signed for fleet of 'shorty' HYA wagons.
Irish Angle
'Grand Hibernian' Mk.3s delivered to Dublin.