Rail Express is essential reading for today's rail enthusiast. It has all the latest news from across Britain's railway network, illustrated with superb photographs of traction in action.
There's full coverage of main line movements, London Underground, railtours, the preservation scene, shunters, coaches and developments over on the Irish network. Every movement and acquisition is examined and the Time Traveller column offers a nostalgic look back at the rail news of yesteryear.
Rail Express Modeller is your comprehensive guide to the world of model railways, featuring reviews of new releases and how-to guides for getting the best from your layout.
So don't miss out – get involved and take out your magazine subscription now!
December 2016
Current issue: December 2016
Next issue: January 2017 – On sale: December 15
In the December 2016 issue: 
Headline News
Downturn leads DB Cargo to cut jobs; Eurostar cuts fleet and services; Plans for Scottish internal sleeper; Class 31s to work Mid-Norfolk tour; Hercules sold to Class 50 Alliance; HS2 to be merged with West Coast franchise; GB Railfreight to be sold; Welsh Government pushes case for light rail instead of electrification; Thameslink structure 'a mistake'; Norton Bridge to formally close; 'Poor maintenance' caused high speed collision.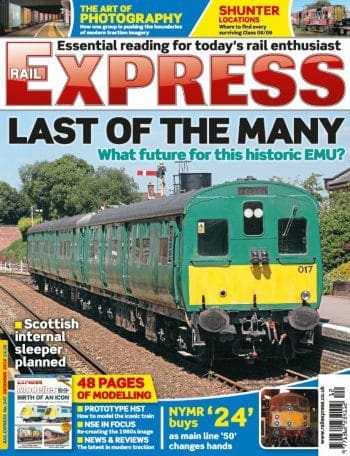 What future for the '306'?
The sole-surviving Class 306, which dates back to LNER days, is at a crossroads. What do owners the NRM have planned for this unique unit?
The art of photography
The Phoenix Railway Photographic Circle was established over 40 years ago to push the boundaries of modern traction imagery, and here we present a selection of its members' work.
0-60: Class 700
The new Siemens-built EMUs are now finding their feet on Thameslink duties, but how are they performing in everyday use?
Then & Now: Bury
Comparing today's heritage hub at Bury Bolton Street with how it looked 50 years ago.
EXPRESS MAILBAG
Single power car HSTs; Notes on tanks; Class 14s on the Lickey; Network SouthEast survivor.
REVIEWS
APT the untold story; Early days of the East Lancs.
TIME TRAVELLER
December news from the past five decades.
LU WORLD
Prototype 1986 Stock car goes to Coventry.
RAILTOURS
Including a full round-up of December tours.
PRESERVATION
NYMR buys Class 24; Class 26 suffers major failure; Class 100 goes for scrap; Wagon appeal launched.
POWER BY THE HOUR
Colas Rail bolsters its loco fleet. Includes a Railhead Treatment Train photo special.
POWERSCENE
Our class-by-class round-up of notable workings.
UNITARY AUTHORITY
c2c takes delivery of its first Class 387/3.
SHUNTER SPOT
Harry Needle shunters on the move – plus a full listing of all surviving 'Gronks' and their locations.
COACH COMPARTMENT
'Reggie Rail' Mk.1s in focus; Royal Scotsman set goes to Eastleigh for winter storage.
WAGONS ROLL
DB Cargo order boosts the JNA/MMA box fleet.
IRISH ANGLE
Historic Derry/Londonderry terminus to reopen for rail use; Grand Hibernian stock renumbered.