I ENJOYED the freight sectorisation article in RE251 (April issue) and found it an interesting read. The splendid main opening image shows what is most likely the long-distance Lackenby to Corby 'Tubeliner' at York. I think there were two such workings between Teesside and Corby back then.
However, due to changes within the steel industry, the steel coils now arrive at Corby from South Wales, but still provide a viable trainload operation with regards to the distances and tonnages involved.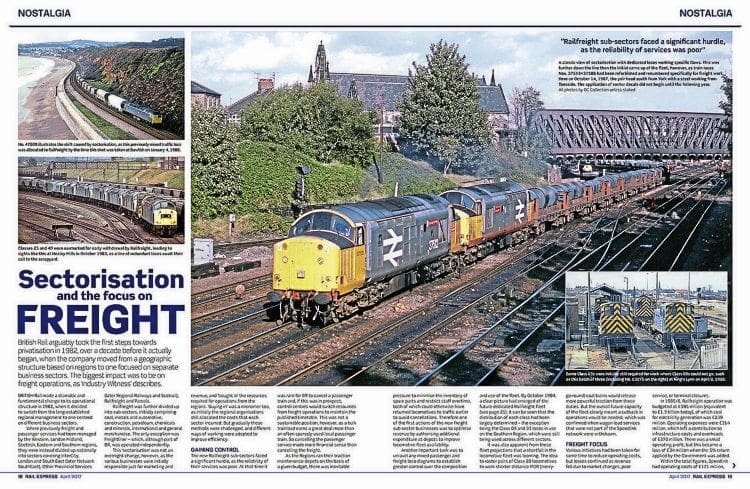 Another image on the same opening pages shows a Speedlink wagonload formation skirting the seafront at Dawlish. This is possibly something like a Plymouth (Tavistock Junction) to Bescot or St Blazey to Gloucester working conveying a mixture of traffics, mainly clay related.
Such traffic in the past would have been routed via Severn Tunnel Junction Yard (closed 1987). The consist includes four of the diminutive PRA wagons (3rd-6th in the consist) then used for an Anglo-Scottish china clay movement from Ponts Mill, near St Blazey, to Wiggins Teape at Corpach, near Fort William. This, back then, must have ranked as the longest-distance domestic wagonload-haul on the network, although (again) I stand to be corrected. I believe this particular traffic flow ceased in the late 1980s.
Also visible in the Speedlink consist are a couple of PBA 'Tiger Clay' wagons (2nd and 8th) introduced in 1982. These found regular use in block train formations to the Potteries (Cliffe Vale) as well as wagonload flows to several Scottish destinations, which included P D Stirling at Mossend.
Finally, the sectorisation period of the late 1980s also saw the amalgamation of Freightliner with Speedlink, which saw a modicum of 'mixed train' operation for a short while, where Freightliner portions could be seen marshalled in Speedlink formations.
One such movement saw container traffic from Bristol to Coatbridge joining the core Speedlink network at Gloucester for trunk haulage to Scotland via Bescot. These arrangements were later amended for the northbound Freightliner portion to join the Speedlink network at Hereford, from where it would be marshalled with vanloads of cider from the nearby Bulmers Cider plant.
Such mixed trains were nothing new and were quite common practice back in the 1970s. They became even more noticeable during Speedlink's fledgling years following its launch in September 1977.
David J. Hayes
Wednesbury, West Midlands
Read more Letters, Opinion, News and Features in the June issue of RE – on sale now!
Enjoy more Rail Express reading in the monthly magazine.
Click here
to subscribe.