The once extensive network of fuel oil deliveries is now reduced to a few as required workings. David Ratcliffe looks back at the history of these services, which peaked in the early 1970s.
FUEL oil, one of the heavier and less volatile of the petroleum fractions obtained during the cracking of crude oil, was primarily used for heating and power generation – and, in the early 1970s, it was a major source of rail traffic, with British Rail handling almost 10 million tons per year.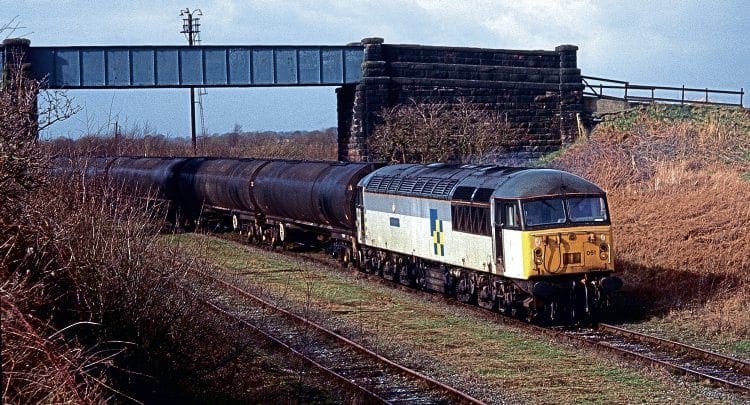 This source of traffic would decline in the years following the 1973 oil crisis, as companies switched to cheaper sources of fuel, but it remained a significant part of the railfreight business until almost the end of the century.
Fuel oil producers
In the 1970s, workings from the Shell refineries at Stanlow, Shell Haven, Heysham and Teesport, together with those from the British Petroleum refineries at Grain, Grangemouth and Llandarcy, accounted for over half this traffic. Other railborne flows of fuel oil originated at Mobil's Coryton Refinery and from Lindsey Refinery at Immingham, which was then jointly owned by Petrofina and Total.
From their opening in 1968, fuel oil was also an important rail traffic from Amoco's Robeston and Gulf's Waterston refineries, both situated near Milford Haven, while regular trainload traffic also ran from Cardiff Docks on behalf of Texaco to a terminal at Soho Pool. In addition, there were fuel oil workings from Esso's coastal terminals at Bowling, Percy Main and Liverpool Brunswick Dock, as well from the Esso refineries at Fawley and Herbrandston – although these would fall sharply with the closure of Herbrandston in 1983.
Indeed the only one of Britain's rail connected refineries not to despatch fuel oil was Conoco's Humber Refinery at Immingham which, when it opened in 1969, was designed to convert the heavier oil fractions into petroleum coke.
End users
Rail-served destinations comprised both dedicated oil terminals and industrial customers' own private sidings with, in the majority of instances, the oil company-owned terminals being supplied from their own refineries.
In contrast, independently-operated terminals were often supplied by several companies. The Lancashire Tar Distillers-owned oil depot at Weaste received trainloads of fuel oil from Lindsey, Stanlow and Waterston, while the British Tar Products' depot at Glazebrook was supplied with fuel oil from Coryton, Lindsey and Waterston.
Given the price volatility of fuel oil, it was also quite common for some of the larger industrial customers to alternate their suppliers – with the ICI chemical works at Northwich and Runcorn, for example, not only being served from the nearby Stanlow refinery but also from Lindsey.
Other chemical companies to regularly receive fuel oil by rail included British Cellophane at Bridgwater, Courtaulds at Holywell Junction, and BNFL's Salwick Works outside Preston. Fuel oil traffic to the paper mills at Aylesford, Darwen, Sudbrook and Thatcham also used rail, albeit at often no more than one or two trainloads a month well into the 1980s.
Other occasional or seasonal customers included the Midland Electricity Board's industrial heating plant at Hereford, the British Sugar works at South Lynn, the Leyland/DAF truck factory at Leyland, and the Department of Trade & Industry buffer storage depots at Goostrey and Misterton. Further customers included British Steel and the Central Electricity Generating Board, the CEGB requiring fuel oil not only at their oil-fired power stations but also as a starter fuel at their coal-fired plants.
Some of the heavier fractions were also used as bunkering fuel, with traffic for Sealink ferries being railed to Dover, Fishguard, Stranraer and Weymouth – where there was an unloading siding behind one of the platforms at Weymouth Quay station.
Wagon fleet
More than 90% of fuel oil traffic was conveyed in block trains, with most private sidings able to accommodate rakes of ten bogie or 20 two-axle tank wagons. A handful of smaller flows, including those to the British Aluminium smelter at Fort William and to Roche Pharmaceuticals at Dalry, were forwarded via the wagonload network.
Article continues below...
---
---
Some fuel oil was also conveyed in mixed petroleum workings, such as those from Stanlow to Jarrow, Lindsey to Brownhills, and from Coryton to Nuneaton.
Tanks of fuel oil for the Cleveland Potash mine at Boulby were included in a company train from Stanlow that also conveyed fuel oil for the Teestore depot at Middlesbrough Dock Hill, completing their journey to Boulby attached to the back of an empty rock salt train returning to the mine from Middlesbrough Goods.
Traffic run down
By the late 1980s, however, oil traffic from most of the coastal terminals had ended. With the ongoing run down of rail facilities at some oil refineries, coupled with a decline in demand, by the late 1990s only Coryton, Lindsey and Stanlow, along with the Minimet terminal at Cardiff Docks, were still despatching fuel oil by rail.
Minimet (previously Curran Oil) continued to supply the power station at Abethaw and Pilkington Glass at St Helens, while Lindsey served the Aire Valley power stations, and Coryton supplied Rugeley power station.
The Brunner Mond (ex-ICI) works in Northwich continued to be served from Stanlow until all rail traffic from the Shell refinery ended in 1998. Subsequently the only flows have been the very occasional spot working of imported fuel oil from Port Clarence, and the trains from Lindsey that continue to supply the power stations at Aberthaw, Eggborough and West Burton as required.
■ For more on fuel oil wagons, see the D&E Files on pages M22-25 in the modelling section this month.
Enjoy more Rail Express reading in the monthly magazine.
Click here
to subscribe.