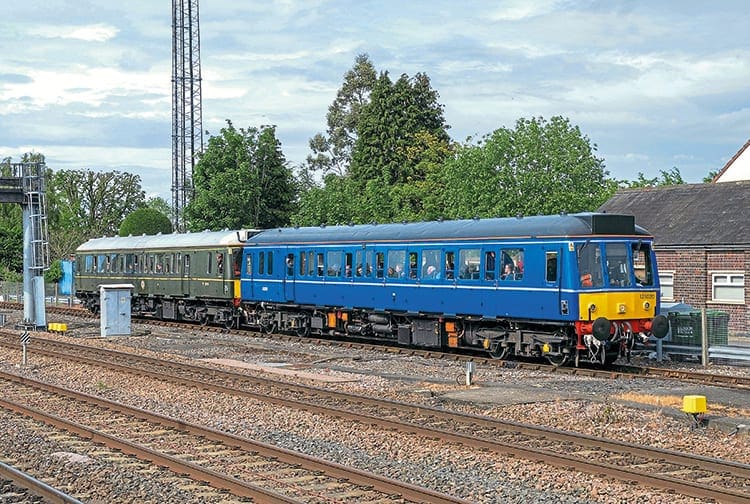 By Simon Bendall
THE final weekday of the winter timetable, May 19, saw Chiltern Railways cease using its two Class 121 'Bubble Cars', and with it came the end of First Generation DMUs with a main line operator.
For the final day, Chiltern commendably chose to operate a number of additional services between Aylesbury and Princes Risborough from lunchtime onwards, these fitting in between the regular morning and evening peak-time duties. Even more welcome was that blue-liveried
No. 121020 was specially repaired in order to take part alongside green-liveried No. 121034, the class pioneer having spent the previous few weeks out of service with transmission issues.
It was just as well that both 'Bubbles' were available and paired up from the start, as the 2Z92/12.50 Princes Risborough-Aylesbury – the first of the extra public runs that day – was so busy that there was standing in the guard's compartments and saloons.
Prior to departure, a 'Bubble Car'-shaped cake had been divided up among the passengers while the Chinnor & Princes Risborough Railway joined in the celebration by positioning their preserved Class 121s, Nos. 55023 and 977858 (55024), on their side of the station for a short time.
Vagaries of age
Article continues below...
Advert
The 2Z92 working had been preceded by a staff and press special from Aylesbury, but there were a few worries when
No. 121020 shut down just after departure on this 2Z91/11.40 working. Fortunately, the Chiltern fitters travelling on board for just such an eventuality were able to resolve the issue after a delay of around 10 minutes.
The reliability issues were not done with, however, as a GSM-R radio failure was discovered on No. 121034 just before the 2Z93/13.19 from Aylesbury was due to depart, leading to both this and the corresponding return being cancelled while the fitters again set to work. With the fault once more attended to, this allowed three further workings to be undertaken before the Class 121s slotted into their booked evening diagram, still heavily loaded with enthusiasts and now regular commuters as well.
The final service worked by the duo was later than planned, the 2A59/20.33 from Princes Risborough bringing the era of the First Generation DMUs and regular vacuum-braked main line workings to a close.
Article continues below...
Advert
Chiltern has now put the units up for sale, with at least eight preserved railways competing for them by tender. The winners are due to be announced in late July, until when the 'Bubbles' will remain in warm store at Aylesbury.
Enjoy more Rail Express reading in the monthly magazine.
Click here
to subscribe.