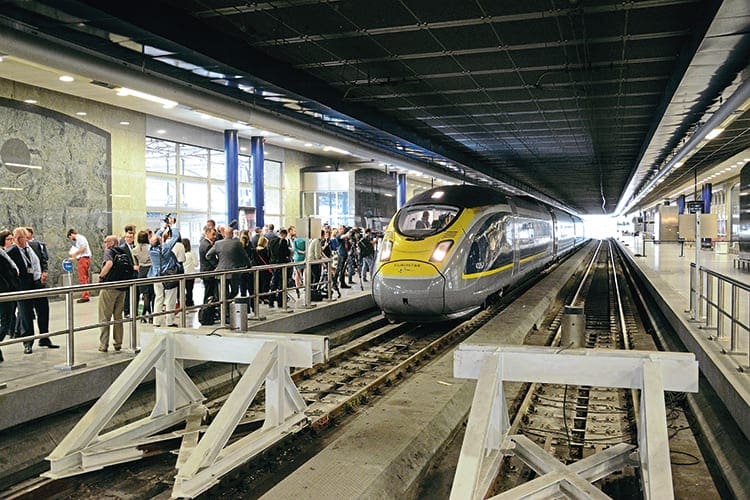 Eurostar puts its Class 374s into service on the London to Brussels route as a first step towards expanding to Amsterdam and beyond.
By Paul Bickerdyke
EUROSTAR has introduced its Class 374 'Velaro' sets to the St Pancras to Brussels Midi route, the first working being the 08.04 from St Pancras and 18.56 return on May 23 formed of half-sets
Nos. 4026+4025.
The Siemens-built 'Velaros' started running on the St Pancras to Paris route at the end of 2015, but running to Brussels is the first stage of the company's goal of reaching Amsterdam via Rotterdam. Eurostar's original Class 373 fleet cannot operate on the 1.5kV DC electrification used in the Netherlands and do not have the necessary ERTMS signalling system. The '373s' also cannot work under the 15kV AC used in Germany, with Cologne and Frankfurt being other destinations planned for the future.
The 'Velaros' can also carry 20% more passengers than the '373s', 902 seats versus 750, while only being around 10 metres longer. This is because they use a distributed underfloor traction system, as opposed to the two driving power cars used by the '373s', and so every vehicle can carry passengers. They also have more on board features compared to the older trains, such as wi-fi, power sockets and an entertainment system showing movies and TV shows. The entertainment system includes an interactive map that shows the location of the train plus details of any landmarks passed on the way.
The first run to Amsterdam is scheduled for December this year, which will be the start of a demonstration service that will be open to the public. A regular timetable of two trains each way from St Pancras should then follow in spring 2018.
Article continues below...
Advert
Between now and December there is much to finish to allow the first '374' to reach Amsterdam. The main hurdle is the homologation process, which means getting the approval and certification that gives Eurostar permission to run trains. But suitable passenger lounges and border controls still need to be completed. Then, after the first run, a period of intense testing and staff training will be required in early 2018 before the full timetabled service can begin.
Whatever happens with Brexit, however, will not affect Eurostar's plans. It says its immigration policies are based on treaties with the individual countries and are nothing to do with the European Union as a whole.
Enjoy more Rail Express reading in the monthly magazine.
Click here
to subscribe.
Article continues below...
Advert