REGARDING the article 'A Trip Down Memory Lane' (May issue), which looked back at some of the Class 08/09-powered local shunting trips in the 1980s and 1990s, it reminded me of similar such workings around the West Midlands at this time, when 'Gronks' were often let loose on the main line.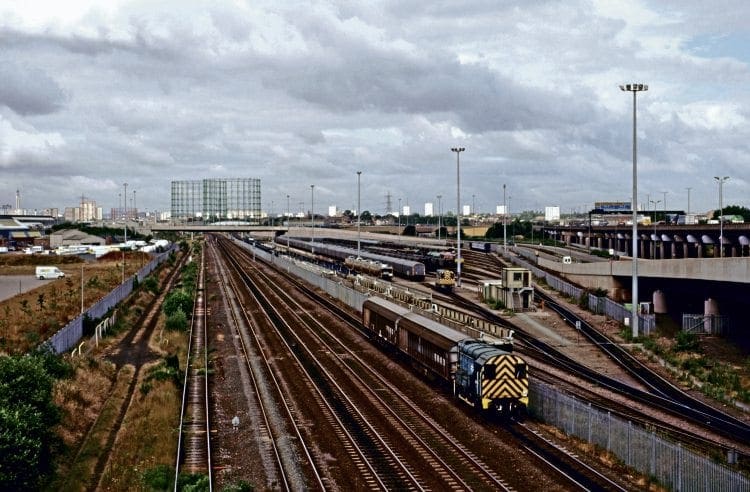 During the Speedlink era, the Wednesbury Class 08 pilot was used for short-haul workings to Bilston (scrap) and Great Bridge (steel and imported sawn timber). Although the Bilston duty did not actually entail main line running as such, it did involve using the fragmented remains of the former Great Western Railway main line from Birmingham Snow Hill to Wolverhampton Low Level, which closed in March 1972. The trips to and from Great Bridge required traversal of the Dudley freight-only route for about a mile each way.
Two examples of greater main line running, and thus careful pathing between local passenger services, utilised the Bescot Up Yard and Bescot Down Yard Class 08 pilots. The former worked an out-and-back engineers duty to Walsall Tasker Street, while the latter was used for tripping high-capacity ferry vans to the zinc works at Bloxwich, about four miles from Bescot. Due to the climb from Walsall to Bloxwich, the '08' was restricted to just four IWA/IWB type Continental bogie vans loaded with zinc, which at this time was imported from Europe using the Dover train-ferry operation.
One other example I would like to mention was the post-Speedlink out-and-back trip from Washwood Heath Yard, handling 'Connectrail' and 'Enterprise' wagonload flows to and from Birmingham Distribution Centre, which was next to Lawley Street Freightliner Terminal.
The accompanying image, taken in July 1999, shows No. 08905 trundling past Washwood Heath Yard with the return 8G24 Enterprise International trip from BDC, and is formed of just two IWB type high-capacity vans. The BDC railhead was handling a good variety of traffics back then, which included domestic movements of mineral water from Inverness (for Tesco) and lighting products from Bodmin. There were also imports of Italian automotive glass and, later, German car parts for Volkswagen.
David J. Hayes
Wednesbury, West Midlands
Article continues below...
Advert
Read more Letters, Opinion, News and Features in the August issue of RE – on sale now!
Enjoy more Rail Express reading in the monthly magazine.
Click here
to subscribe.
Article continues below...
Advert