REVIEWS: Bachmann's re-creation of the Siemens EMU goes south of the Thames for its new incarnation, additional tooling turning the unit into a South West Trains Class 450 for outer suburban and semi-fast duties.
RELEASED back in February 2012, the 'OO' gauge Class 350 'Desiro' marked Bachmann's entry into the world of modern EMUs, the company delivering a very impressive take on the Siemens-built units. Despite being eminently suitable to work alongside Hornby's 'Pendolino' and other current day stock, it did not sell quite as well as expected, the three releases hanging around for quite a while even after discounting.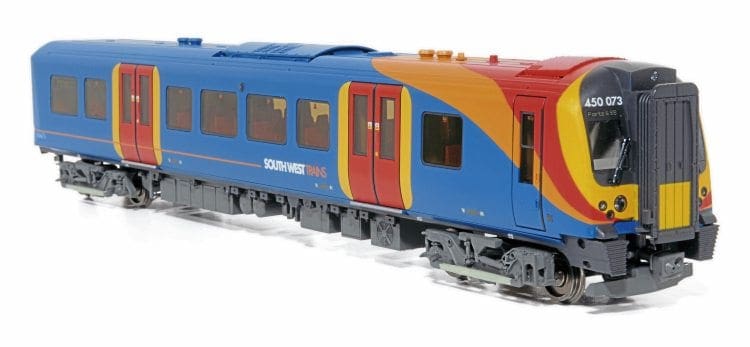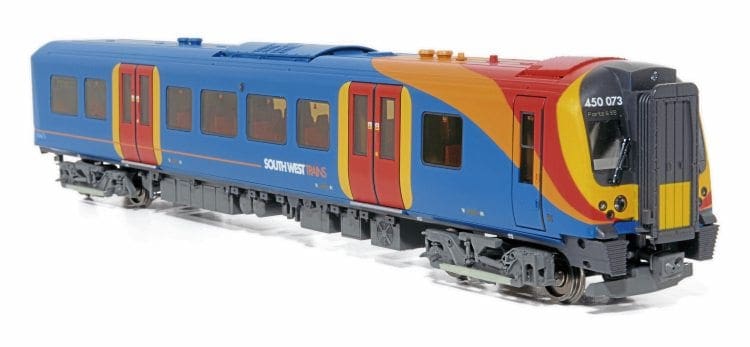 This could well have been due to the lack of a fully developed 4mm scale catenary system and the effort needed to install one, or just that there was little interest in modelling the southern end of the present day West Coast Main Line.
Whatever the reason, it has taken until now for Bachmann to return to the 'Desiro', reconfiguring the model into the third rail Class 450 version. Used exclusively by South West Trains, the units were introduced into passenger service from 2003, replacing a large proportion of the slam door EMU fleet in the process and going on to form the backbone of the operator's outer suburban and semi-fast services to this day.
It will certainly be interesting to see how well this variant will sell, given that installing third rail is much easier than catenary and you do not need to model a four-track main line to provide the right setting. After all, there are still a few leafy branches on the SWT network that are visited by the class. On the down side though, there is little in the way of contemporary EMU stock to run with it beyond the Bratchell Models kit range. Hopefully, it will have the same effect as Bachmann's game changing 2-EPB and provoke an increase in interest that generates demand for other models, but only time will tell.
Read more in the August issue of RE – on sale now!
Enjoy more Rail Express reading in the monthly magazine.
Click here
to subscribe.
Article continues below...
Advert