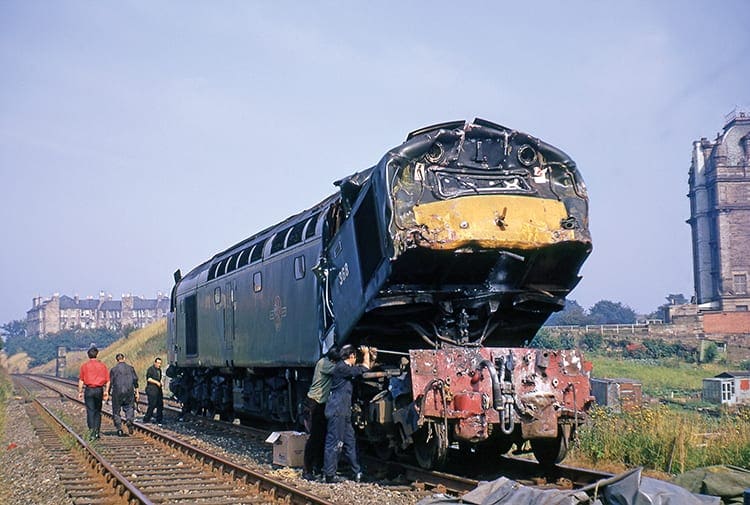 The bizarre – and genuine – sight of No. 368 damaged in a light engine collision with classmate No. 363 on the Granton branch, Edinburgh, on August 27, 1970. The houses in the background are still there today, but the building on the left – which was part of the Chancelot Roller Flour Mills – has been demolished and replaced by housing. TOPticl Digital Memories
OUR 'Class 40 poster poser' in the last issue (page 19) created a great deal of debate, and we were flooded with letters and emails from readers falling into two camps of either 'fake' or 'real'.
It has to be said that most people thought the photo was fake – and understandably so with key questions to be answered, such as why is such a serious crash not known about already, why was the loco repaired and not written off, where was the work done, and why is there no photographic evidence from whichever works did the repairs?
A number of readers also questioned the health and safety aspects on display, with the fitter working under the raised up nose of the '40', which surely must have been a serious risk without protection – a trick photograph some felt.
So we were initially inclined to agree, the photo was a clever fake. Then we started to receive clues that helped the investigation move forward. Derek Everson got in touch to point out the loco has a middle lamp bracket in the yellow warning panel, which only a few '40s' had (some research online found at least Nos. 356, 367, 368, 385). The extra lamp bracket allowed the loco to display four white head lamps if working the royal train.
Mark Alden went further, pointing out the loco on the poster also has a small round disc in the yellow warning panel, which was added to locos for royal train working and allowed a communication cable to run between the cab and the train. Again, only a few members of each class had this fitted (centre headcode '40s' with this included Nos. 360, 364, 371, 374, and 382).
Then we had a crucial breakthrough. Mike King got in touch with a link to a photograph for sale on eBay that appeared to show the loco in question. We tracked down the owner of the shot and asked for a copy, which is shown above: an exact match and clearly showing the number No. 368.
More details
But if the photo is genuine, exactly what happened? After all, we do know No. 368 survived as No. 40168 until it was withdrawn at the end of 1984 and scrapped in 1986.
Mike King got back after finding a mention on the Derby Sulzers website (www.derbysulzers.com) for 1970 stating that two green liveried '40s' Nos. 363 and 368 were badly damaged in a collision on the Easter Road to Granton branch (near Edinburgh) on August 27 that year.
Our photographer was then able to go further. The collision occurred in the early morning in thick fog. There was a breakdown in communication regarding the signalling on the branch, which was then being worked as a single line section with 'one engine in steam'. But somehow two movements were authorised, resulting in a head-on collision between Nos. 363 and 368. A breakdown crane did not arrive until the following day to begin clearing up the mess.
Finally Steve Morris sent us a link to an article in issue 124 of the Class Forty Preservation Society's magazine The Whistler, which covered the circumstances of the crash in depth. The locos had both been running light engine, so luckily not hauling oil/fuel trains as was common on the branch, and had a closing speed around 40mph in fog that had reduced visibility down to 40-50 yards, meaning the drivers had literally seconds to react. Fortunately, none of the crew were badly injured and both locos remained on the rails, locked together nose to nose ("like two fighting crocodiles").
The engines of both locos had moved on their bearings and so neither could be moved until replacement bogies were obtained. However, trains were able to start running again around the damaged locos by reusing the redundant second line. And, needless to say, working arrangements on the branch were subsequently tightened up!
Knowing the dates and numbers of the locos involved allowed a quick check on the excellent website The Class 40 Motherlist (www.class40motherlist.com), which – although short on detail – revealed that the two Class 40s were indeed out of action for the latter part of 1970 and into 1971. Nos. 363 and 368 were both recorded at Crewe Works in November 1970, with No. 363 noted back in traffic on March 13, 1971 working the 09.20 Kings Cross-Leeds and 368 on April 14, 1971 heading the 13.15 Aberdeen-Glasgow Queen Street.
Article continues below...
---
---
■ Questions remain to be answered, however – such as how were the locos transported away with their noses in the air (was it by road or rail, and if by rail were they out of gauge, particularly on the electrified lines around Crewe), and are there any photos of either loco being moved or under repair at Crewe? If any reader can help further, please do get in touch.
Thanks also go to Geoff Corner, John Keane, Steve Jones, Steve McFarlane, Phil Reed, David Russell, Steve Sienkiewicz, Andrew Thompson, and Brian H Williams for help with this mystery.

Enjoy more Rail Express reading in the monthly magazine.
Click here
to subscribe.