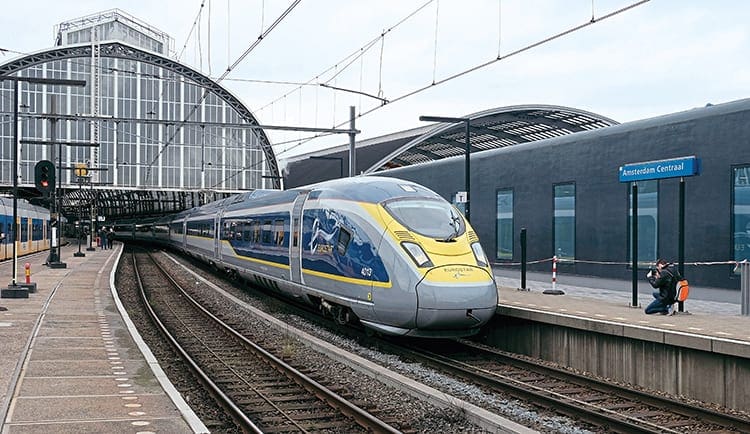 Eurostar has started running daily passenger services between London and the Dutch capital.
A NEW era for Eurostar began on April 5, with the introduction of through services from St Pancras to Amsterdam. The honour of the first public service fell to Class 374 e320 set Nos. 4013+4014. It left London at 08.31 and reached Amsterdam in 3hrs 41mins, calling at Brussels (1hr 48mins) and Rotterdam (3hrs 1min) at speeds up to a potential 300km/h (188mph). Eurostar first announced plans to serve Amsterdam in late 2010, then in 2013 said services would start in 2016. However, delays to planning, staff training and train approval saw the start date pushed back to this April. A demonstration run for press and guests ran on February 20, formed of set Nos. 4031+4032.
The company is hoping to capture a share of the large airline market by offering direct travel between city centres and check ins down to 30 minutes before departure. It is also offering fares from £35 one-way. The stop at Rotterdam could be crucial, as it is home to Europe's largest port and so there is potentially a large number of business travellers that could be tempted away from using airlines. The service has begun with two direct services each weekday departing St Pancras at 08.31 and 17.31, with just the morning departure on Saturdays and none on Sundays.
Delayed return
The return journey currently involves a change at Brussels, however, for passport controls and security screening to be carried out. This will be a temporary measure whilst the UK and Dutch Governments finalise an agreement for passport checks to be conducted in the Netherlands. The two Governments have committed to putting this in place by the end of 2019, although the possible effects of Brexit are not yet known.
Article continues below...
Advert
Eurostar has learned a lesson from its Marseille operation, in which return passengers have to detrain at Lille for passport and security services, resulting in fewer bookings for the northbound service than for the southbound. In the interim, the Eurostars will work back from Amsterdam to Brussels as additional services marketed by Eurostar, Thayls and Dutch national operator NS, leaving at 07.48 and 16.48 and picking up London-bound passengers at Brussels.
There are also up to eight Thalys services a day from Amsterdam and Rotterdam that connect into Eurostar services at Brussels, departing Amsterdam at 06.17, 07.17, 12.17, 14.17, 15.17, 16.17 and 17.17. The change means the London-bound journey takes an hour longer, with a total journey time of around 4hrs 45mins.
Only the Siemens-built Class 374 trains can work through to Amsterdam, as the original Eurostar Class 373s do not have the necessary signalling and safety equipment – and, for the time being, only the newest seven of the 17-strong fleet will be used as they were delivered fitted with the Dutch automatic train protection (ATB) while the first 10 need to be retro-fitted. ATB is required for use in depots and on diversionary routes away from the high speed lines. Trains are crewed north of Brussels by NS drivers, and drivers from the Thayls pool have been trained to work on the Eurostars.
Article continues below...
Advert
Enjoy more Rail Express reading in the monthly magazine.
Click here
to subscribe.