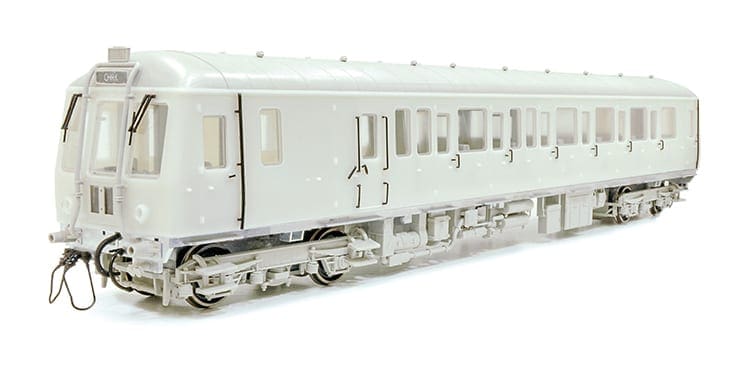 The manufacturer has made its spring announcements, these including a DMU in 7mm and a new 'OO' wagon.
LATE March saw Dapol make two major announcements of new D&E era models. For 7mm modellers, this was the unveiling of the Gloucester-built Class 122 single-car DMU, this employing the same research as used for the 'OO' gauge model. The unit has already reached the pre-production stage, as pictured here, and is scheduled for release at the end of this year. It will be followed by the similar Pressed Steel Class 121, which has been tooled up at the same time.
The specification of the model includes dual power bogies, pre-installed speakers with DCC fitted and sound versions available, multiple lighting options and a host of separate and era specific detail. Provisional pricing is £299 for a standard model, rising to £329 for DCC fitted and £454 for sound. Planned liveries encompass No. 55000 in BR green with speed whiskers, No. 55004 in green with yellow panels, BR blue No. 55006, BR blue/grey No. 55002 and Regional Railways-liveried No. 55012.
O&K for aggregates
In 'OO' gauge, there was news of the first aggregates wagons to accompany the under development Class 59, which will take the form of the Orenstein & Koppel JHA hoppers, as built in 1989 for Foster Yeoman and still used today. These will be released around the turn of the year and should appear at the same time as the General Motors locos, which Dapol continues to quietly work on, having reached the artwork stage.
The JHAs will be produced in both outer and inner form, mirroring the real wagons. The outer wagons will feature sprung buffers and a tension lock coupling at one end only with a buckeye at the other end, while the inners will be buckeye equipped only. The outer wagons will also be fitted with a working flashing tail-light that will function on either DC or DCC, the latter requiring the presence of a six-pin socket. As a result, the outers are priced at £55 each with the inners at £45. Both versions of the Foster Yeoman livery will be released together, with two outers and three inners in each scheme.
North British progress
Completing the news from Dapol was the very welcome appearance of pre-production samples of the much-delayed Class 21 and Class 29, the 'OO' gauge North British locos having been first announced way back in 2010. Although still requiring improvements, it is currently hoped that the models will be released around the end of this year.
Four Class 21s have been announced, Nos. D6102 and D6110 in plain BR green along with Nos. D6116 and D6120 with half yellow ends. Meanwhile, the re-engined Class 29 will appear as Nos. D6114 and D6133 in two-tone green with yellow panels, No. 6112 with full yellow ends and No. D6129 in BR blue. All are priced £151.94 with DCC fitted at £173.93 and sound versions for £293.93. www.dapol.co.uk
Comments
comments