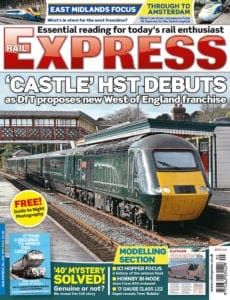 NEWS
HEADLINE NEWS
New West of England franchise proposed; SVR offers chance to drive a '66' and '73'; Cancellation of electrification review; First Class 800/2 arrives; GA's new Brantham depot put on hold; Backing promised for new routes and stations; CAF factory milestone; New West Coast franchise to start in 2019; North Wales signalling upgrade.
LU WORLD
A look inside two Met Line signal cabins.
RAILTOURS
Flying start for Saphos; 'Hoover' tour planned.
PRESERVATION
New home for '04'; Bodmin '108' acquired; Rare '03' pairing; Gala problems for 'Peaks'; Weardale 'Pacers' scrapped; 'Clayton' to visit Spa Valley.
POWER BY THE HOUR
Electric loco works into Glasgow Queen Street; GBRf trials '70'; Red tapes halt TPE '68' transfer.
POWERSCENE
Key workings, class by class.
UNITS
Final '707s' enter service with SWR; Northern gets first ex-ScotRail 'Turbostars'.
SHUNTERS
RMS duties diminish as '08' scrapped.
COACHES
Mini-HST enters service with sliding door Mk.3s.
WAGONS
First dedicated biomass hoppers arrive for GBRf.
IRISH ANGLE
IR snow shutdown; Preservation for 'Thumpers'.
FEATURES
AMSTERDAM BEGINS
Eurostar has begun regular passenger services from London to the Dutch capital.
EAST MIDLANDS FOCUS
With the franchise up for renewal, we look at the past and future of this key artery.
NORTHWICH ICI TRAFFIC
Detailing the traffic flows to the Cheshire chemical plants in the diesel years.
0-60: CLASS 87
A railtour offers the chance to step back in time.
REGULARS
SUBSCRIPTION OFFERS
The best ways to get Rail Express every month.
EXPRESS MAILBAG
On Shed updates; double 'Warships' at the SVR.
REVIEWS
New books with a modern traction theme.
TIME TRAVELLER
Headlines from the past 50 years.
Enjoy more Rail Express reading in the monthly magazine.
Click here
to subscribe.