The death of Sir Nigel Gresley at Hertford on April 5, deprives the railway mechanical engineering profession of one of its most distinguished personalities, and one whose career has no parallel in the locomotive history of this country.
For nearly 30 years he held the chief executive position on the mechanical engineering side of an important railway, first as Locomotive Engineer of the former Great Northern Railway, to which post he was appointed at the unusually early age of 35, and, secondly, as Chief Mechanical Engineer of the London & North Eastern Railway.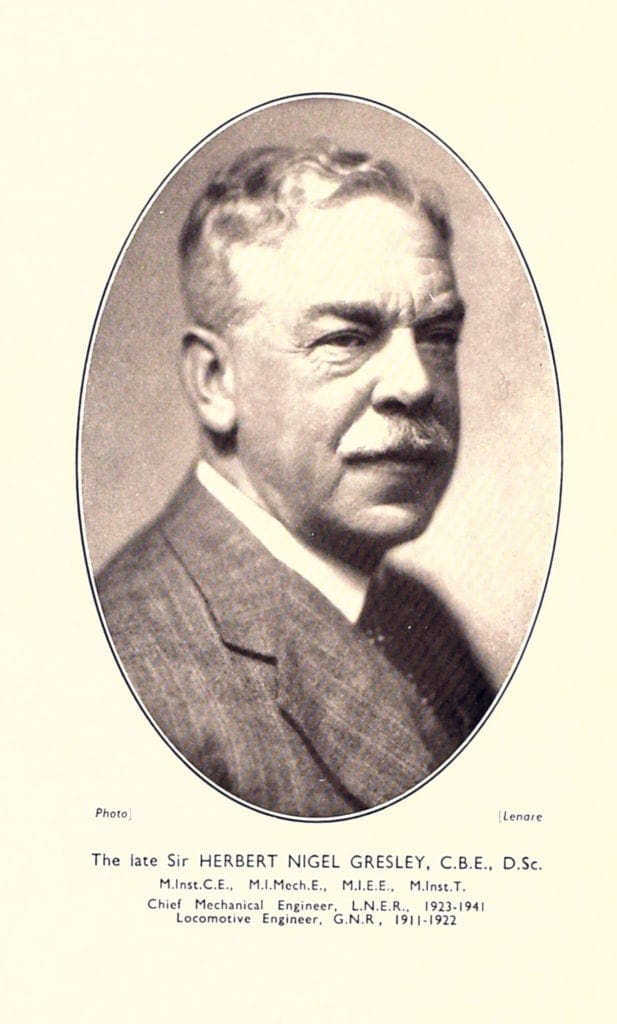 Herbert Nigel Gresley, son of the late the Rev. Nigel Gresley, Rector of Netherseale, was born on June 19, 1876, and went to school at Marlborough. He began his railway career at the Crewe works of the L.N.W.R. where he served his apprenticeship under F.W. Webb. He was subsequently a pupil of Sir John Aspinall at Horwich, Lancashire & Yorkshire Railway, and after varied experience achieved the position in 1902 of Assistant Superintendent of the Carriage & Wagon Department 
In 1905 he was appointed Carriage & Wagon Superintendent of the Great Northern Railway, which appointment he held until October, 1911, when he succeeded H. A. Ivatt as Locomotive Engineer at Doncaster.
On January 1, 1923, he became Chief Mechanical Engineer of the newly-formed London & North Eastern Railway, the only technical officer whose authority covered the the whole railway, as the L.N.E.R. adopted the divisional system, with chief technical officers for each division. 
Gresley's long association with locomotive and rolling stock design, and the responsible positions he held in the course of his career provided him with 'ample scope for the exercise of his outstanding abilities, among which was enterprise combined with energy and courage that enabled him to tackle with success the many problems that must always confront the chief mechanical engineer of a great British railway.
Although he was conservative in the best sense, he had the breadth of mind to consider new ideas put to him both inside and outside the railway, and to have those of them which held promise investigated and often tested in practice. Thus, he never rested on his laurels, but was always seeking and finding improvements.
The death of Sir Nigel Gresley on April 5, 1941 deprived the railway mechanical engineering profession of one of its most distinguished personalities

The Railway Magazine, 1941.
He had inventive genius as well as administrative ability, and his strong advocacy of three-cylinder single-expansion propulsion was accompanied by an important factor in its success on the L.N.E.R. in the form of his own design of conjugated valve motion. This, he contended, was preferable on grounds of economy of weight and maintenance to providing each cylinder with its own individual motion.
Nevertheless, the success of the Gresley gear did not prejudice the trial of other gears, as witness his numerous three-cylinder 4-4-0 locomotives,' fitted with poppet valves which continue to give reliable service on the northern sections of the line. 
Gresley was a great believer in the principle of the big boiler, including, where possible; a wide firebox and large grate area ; he also gave much attention to the question of comfort and often discussed this and other; kindred matters with the enginemen. Nothing was too much trouble to him if in the end it might lead to some improvement in the locomotive, and it was this ceaseless activity on his part which led to his promotion of the plan for setting up a stationary locomotive testing plant.
His advocacy of this scheme was strengthened as a result of the tests on his 2-8-2 express locomotive Cock o'the North which, with characteristic enterprise, he sent over on the train ferry to France, where it ran under its own steam to the Vitry testing plant at Paris in 1937. As a result certain features of the new engine were shown to be susceptible of improvement, and the subsequent locomotives of the class were modified accordingly.
But for the war this advocacy would by now be nearing fruition by the completion of the plant which was in course of construction jointly by the L.N.E.R. and the L.M.S.R. Reference must be made, in mentioning major experiments, to locomotive No. 10000, with its Yarrow water-tube boiler carrying a pressure of 450 lb. per sq. in. This engine, originally constructed in 1929 as a four-cylinder compound with the idea of securing reduced coal consumption, failed to achieve its object and was converted in 1937 to a three-cylinder simple with a normal boiler.
Meantime modifications to the valve setting of the Pacifics, indicated by comparative tests with Great Western locomotives, resulted in their giving highly successful and economical service. Gresley's further development of the Pacific type bore evidence, in their internal streamlining, of his observation of French locomotive practice. 
In the meantime the call had come for higher speeds, and Gresley, who, although impressed by his journeys on the diesel FlyingHamburger in Germany, was a strong advocate of steam for his country, had responded with trial runs which showed that his earlier pacific were capable of putting up performances hitherto regarded as beyond the normal capacity of standard locomotives.
The faster travel required by the Operating Department to attract additional traffic demanded sustained speed in so high a range as to justify external streamlining, and the introduction of the Silver Jubilee between King's Cross and Newcastle in 1935 led to the inception not only of other streamlined steam trains on '3';g. the L.N.E.R. but also the Coronation Scot on the L.M.S.R. How successful were the modifications Gresley made to his Pacific design to cope with the requirements of high-speed is shown by the fact that one of his streamlined Pacifics, N0. 4468, Mallard, attained on test a momentary maximum speed of 126 m.p.h., the highest reached in Great Britain, and probably a world record for steam traction.
A contribution to this achievement was the use of alloy steel to lighten the moving parts, a practice introduced by Gresley with his fine "K3" 2-6-0 mixed traffic engines. When the decision was reached to run trains non-stop between London and Edinburgh, Gresley built corridor tenders to enable engine crews to be changed on the way.
Among other notable experiments may be mentioned his use of the locomotive booster fitted experimentally to various types of locomotive. Although successful, experience showed that, except for such locomotives as hump shunters, the additional complication and expense of the boosters was not justified in British practice. The last innovation made by Gresley was the fitting to one of his new 2-6-2 general utility locomotives of a Nicholson thermic syphon.
Gresley was responsible for the electrification schemes of the L.N.E.R., including those covering the Sheffield-Manchester and London-Sheffield lines, and the first of a number of electric locomotives for the former was only recently completed. 
You may also like:
Gresley had been Carriage & Wagon Superintendent of the Great Northern Railway until he assumed authority over the whole of the Locomotive, Mechanical and Rolling Stock Department on the retirement of H. A. Ivatt, and he always took a lively interest in the design of rolling stock. His enterprise was exemplified in the double-bolster bogie which he designed and standardised for use on passenger vehicles.
Although this type of bogie was rather more elaborate and costly than the more orthodox design, it was justified by the very steady running it gave and its thoroughly satisfactory service. His introduction of electric cooking on trains, a practice now wide spread on the L.N.E.R., also deserves mention. The articulation of vehicles was another innovation of his, and not only saved considerably in total tare weight by making three bogies do the work normally allotted to four, but was of value in economising the length of trains, particularly those used on suburban services where platforms and terminal arrangements were short, such as those in the City of London.
A further advantage of the articulation principle was shown in the remounting of two or more coach bodies, formerly carried on six wheels, on three or more bogies, thus bringing them up to comparatively modern main-line standards. The internal comfort of modern L.N.E.R. main-line stock is well known, and where luxury accommodation was called for, as in the high-speed stream-lined trains, Gresley did not hesitate to call in the decorative and furnishing experts, with results shown by the wide patronage these special trains commanded. 
Gresley contributed many papers to the technical institutions, and although he did not write for the technical press, he was always ready to help with accurate descriptions of his works ; so recently as the week of his death he had returned corrected proofs of an instalment of Mr. O. S. Nock's series of articles on his locomotives.
Sir Nigel Gresley's Successors
To succeed Sir Nigel Gresley, the directors of the L.N.E.R. have appointed Mr. Edward Thompson as Chief Mechanical Engineer, and Mr. H. W. H. Richards as Chief Electrical Engineer. Mr Thompson, who was a student at Marlborough and Cambridge, served first with Beyer, Peacock & Co. Ltd., and then with the Midland Railway.
In 1906 he joined the Running Department of the former North Eastern Railway, and at the beginning of 1912 was appointed Carriage & Wagon Superintendent of the old G.N.R., since when he has held various positions on the L.N.E.R., concluding with that of Mechanical Engineer, Southern Area (Western Section), which he assumed in June, 1938. Mr. Richards, after experience with various firms concerned with electrification, joined the L.B. & S.C.R. in January, 1913, as Electric Traction Engineer. He was appointed Electrical Engineer, L. N. E. R. (under the C.M.E.) in 1924. 
Comments
comments