For much of the 1980s, the Class 47/7-powered push-pull sets were the face of ScotRail, working the front rank inter-city services between Glasgow, Edinburgh and Aberdeen. In the latest part of his article on the sets, Andy Clayton describes how to model the hard-pressed Type 4 motive power and continues with the coaches by tackling the DBSO.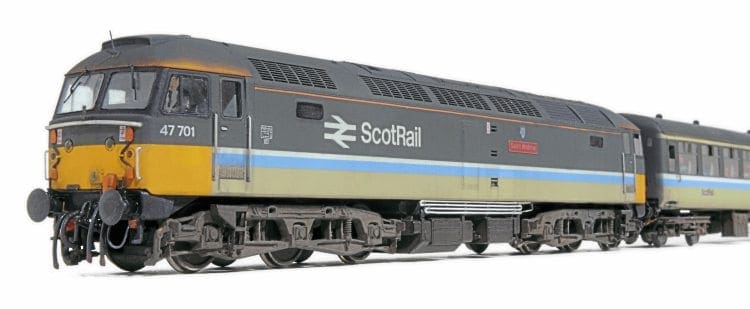 I am currently in the process of building Glasgow Queen Street circa 1988 in 'EM' gauge. The layout is progressing well, with all the boards now built and I am hoping that the decision to model the first scale 12 feet of Cowlairs Tunnel will be something worth seeing. The incline has been built to a scale 1 in 45 and the tunnel will be viewed in cutaway form from the side, so giving a view of the facing and trailing crossovers in the first part of the tunnel.
The first step towards re-creating the ubiquitous and synonymous ScotRail push-pull rakes required for the layout was detailed back in Rail Express Modeller No. 137 (September 2015) when the then new Hornby Mk.2e model was comprehensively reworked into something rather more accurate. In this part, ways of modelling the Class 47/7s and Mk.2f Driving Brake Standard Opens (DBSO) will be explored with the remainder of the set being covered at a later date.
If you want to model a 4mm scale Class 47, you are well catered for with Bachmann, Heljan, Hornby (the old Lima moulding) and ViTrains all offering ready-to-run interpretations of the Brush Type 4s. Over the years, there have been many critiques of the merits of each model but to save going over all that ground again, it is pretty much down to personal preference and, to be honest, I have had a go at detailing all of the different flavours. The loco pictured here used the Heljan model as its basis.
Read more in February's issue of RE – out now!
Enjoy more Rail Express reading in the monthly magazine.
Click here
to subscribe.
Article continues below...
Advert