The future of zinc and lead mining near Navan has been secured through to at least 2026, the ore being moved by rail to Dublin Port.
THE Swedish owner of Tara Mines at Navan, which is Europe's largest zinc/lead mine, plans to invest €44 million at the site after new resources were discovered. Boliden will make the investment to see the current level of mining continue to 2026, which is around 2.5 million tonnes per annum.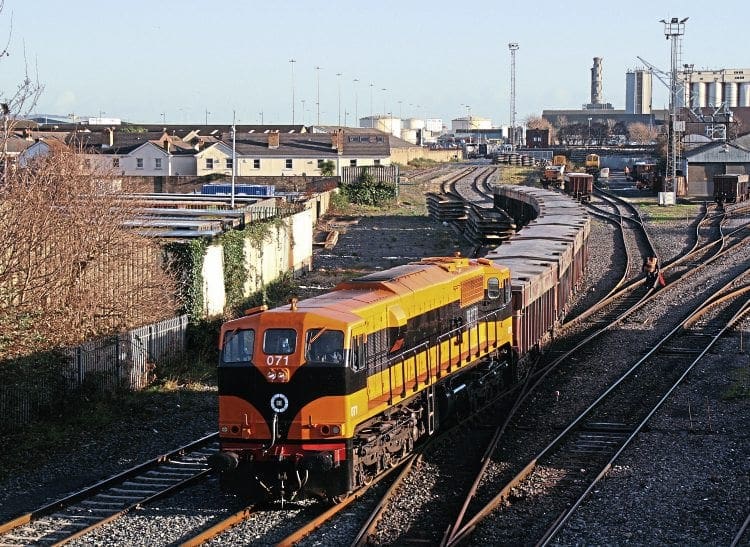 Rail will continue to be used to transport the material from the mine to Dublin Port, as this was a pre-condition before a mining licence was granted back in the early 1970s. Around 80 million tonnes of material have been extracted since the mine became operational in 1977.
A short length of the closed (1961) Navan to Oldcastle branch was reinstated to serve the mine, and traffic between it and the unloading terminal at Alexandra Road, North Wall, Dublin Port commenced in June 1977.
The traffic was dominated for many years by members of the 001(A) Metro-Vick locomotive class. However, the introduction of the new 201 Class fleet in the mid-1990s saw the 071 Class cascaded to other duties, which included their use on Tara Mines trains. This coincided with the withdrawal of the remaining Metro-Vicks from company service. The GM 201 Class is unsuitable for the Tara Mines duties as they are too long for the traverser at the unloading terminal at Alexandra Road.
Read more News in the March issue of RE – out now!
Article continues below...
Advert
Enjoy more Rail Express reading in the monthly magazine.
Click here
to subscribe.