I AM writing to say how much I enjoyed the look back at the lovely 'Western' class in your March Issue.
Unfortunately there was one error that crept in when it was claimed that No. D1010 Western Campaigner worked the 1E45/ 07.30 Swansea to Leeds throughout on January 20, 1977. It was in fact No. D1013 Western Ranger that did the honours that day.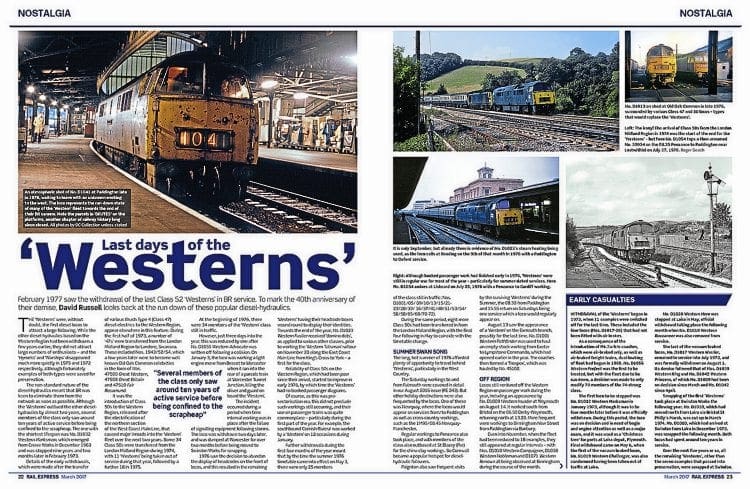 I had a very personal, and concrete, reason to remember No. D1013 that day. I had spent a couple of days in Leeds bashing the local branches, and returned home by that very train (the 14.43 Leeds to Plymouth) the day before – hauled, I think, by a 'Peak'. If only we could have known in advance that a 'Western' would be doing the honours the following day, what a turnout there would have been along the route. I certainly would have been more alert to what was hauling us and, having an All Line Rover in my pocket, definitely would not have bailed at Cheltenham for the Swindon DMU!
Although not a serving railwayman at the time, I did join British Railways as a Western Region guard some years later. I often spoke to the drivers and others who knew the hydraulics so well, and can confirm that they were immensely popular with their crews.
Even more than 30 years after the 'Westerns' were withdrawn, the mere mention of one in the crew cabin could bring some of the hard bitten drivers (in particular) to a state of near misty-eyed nostalgia. They seemed in no doubt that the ridiculously early withdrawal of the diesel-hydraulics was a huge mistake – as, of course, were we 'spotters' of the time too.
Greg Heathcliffe,
Swindon
Article continues below...
Advert
Read more Letters, Opinion, News and Features in the April issue of RE – out now!
Enjoy more Rail Express reading in the monthly magazine.
Click here
to subscribe.
Article continues below...
Advert