Both Colas Rail and Direct Rail Services have new machinery to commission as a Class 70 and five Class 88s arrive.
SIX newly-built locomotives touched down on UK rails within three days of each other as February turned to March, bringing new motive power for both Colas Rail and Direct Rail Services.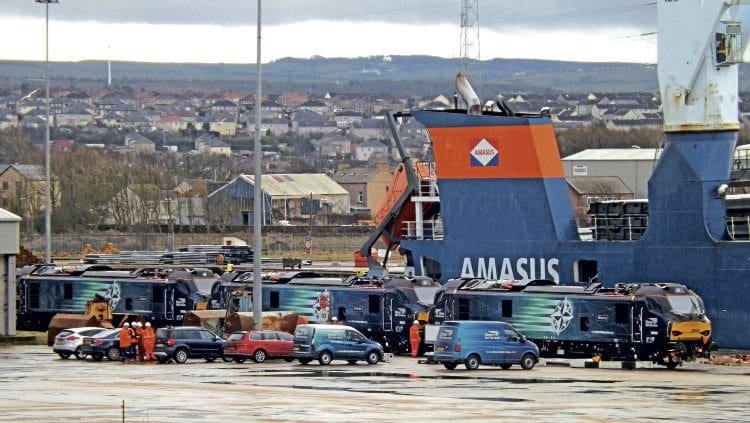 It was Colas that was celebrating first, as the initial loco in its follow-on order for seven more General Electric Class 70s arrived from America late on February 24. This took the form of No. 70812, which was surprisingly transported across the Atlantic on its own rather than with No. 70811 for company. Loaded aboard the roll-on/roll-off Atlantic Sail, the ship docked at Seaforth, Merseyside, following a two-day wait in the Irish Sea for a suitable berth.
Loaded atop a transport trailer, the Class 70 was on the quayside by the following morning, with a crane provided on the 27th to lift the loco onto the rails. As March began, it was still awaiting collection from the docks, but had been transferred into the COLO operational pool.
Godesses delivered
March 1 saw DRS take delivery of its second lot of Class 88s with the arrival of five of the class at Workington Docks aboard the Eemslift Nelli.
Unloaded using cranes that morning, the ship contained Nos. 88001
Revolution, 88003 Genesis, 88004 Pandora, 88005 Minerva and 88008 Ariadne. Late afternoon saw No. 66433 haul the quintet away as the 6Z89/16.00 Workington Docks-Kingmoor to allow commissioning to take place.
Article continues below...
Advert
The locos had departed the Stadler Rail plant in Valencia by road during mid-February, being taken the short distance to the port of Sangunto for loading, with the ship departing for the UK on February 23. Nos. 88006 Juno, 88010 Aurora and the as yet unnamed duo of Nos. 88007 and 88009 remained at Valencia at the end of the month awaiting shipping, while the first of the new batch of Class 68s, Nos. 68026 and 68027, were also visible at the Stadler plant.
Delivered during January, No. 88002 Prometheus remained ensconced at Kingmoor during February undergoing initial checks and commissioning. Testing was expected to get underway in mid-March as this issue went to press.
Read more News in the April issue of RE – out now!
Article continues below...
Advert
Enjoy more Rail Express reading in the monthly magazine.
Click here
to subscribe.